招へい研究者事業 | Dhanpat Ram Agarwal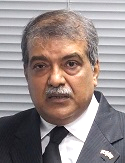 Director,
Institute of International Trade (Center for WTO Studies)
招へい期間 / Visiting Term
平成28(2016)年11月14日~平成29(2017)年2月11日
研究テーマ / Research Theme
「特許権の国際消尽と並行輸入:インドと日本の比較研究」 (仮訳)
" International exhaustion of patent rights and parallel imports: A comparative study between India and Japan "
略歴 / Career
A Chartered Accountant in Practice since February, 1982, A Fellow member of the Institute of Chartered Accountants of India and hold a Ph.D Degree in Economics from North Bengal University; A Bachelor of Commerce and a degree in Law from the University of Calcutta. Presently engaged in research and consultancy in the area of IPR as the Founder Director of ITAG Business Solutions ltd and also organize annual conference popularly known as Global IP Convention (GIPC). Participated in various Ministerial Conferences of WTO and actively involved in policy- making process relating to international trade in India.
論文・著作物 / Publications
• A Monograph on WTO (2005)
• Global Meltdown (2008)
• A Monograph on IPR (2016) under print
Several published articles in reputed published book and Journals on the subject relating to IPR and other WTO related topics.